GraDR 2012 Crossing Number Workshop and Minischool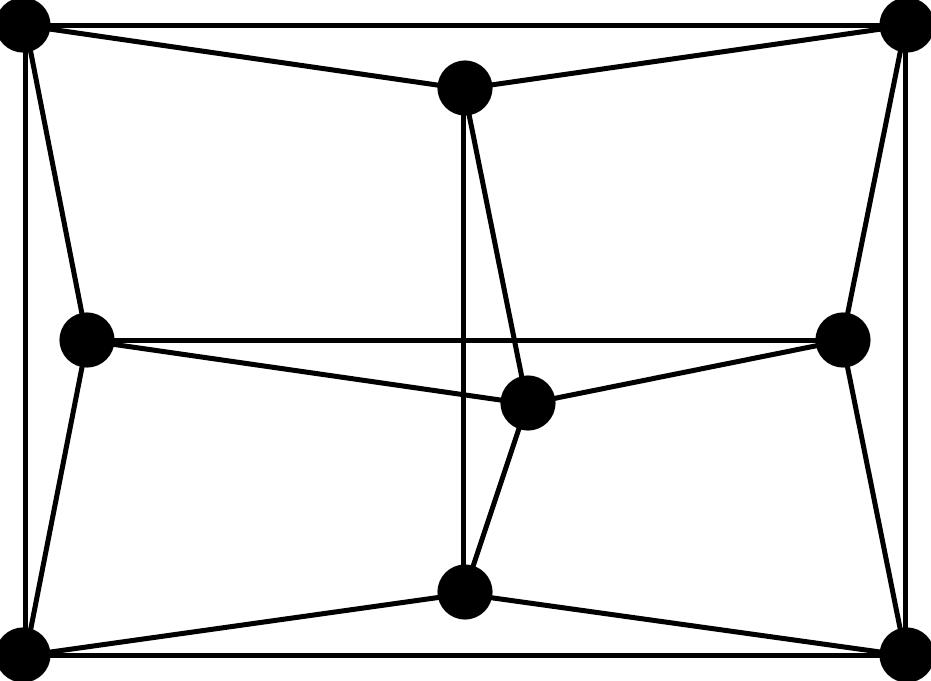 May 20-24(25), 2012
Valtice, CZ (between Brno and Vienna)
open to all interested researchers in the crossign number area (not limited to GraDR or EuroGIGA)
Motto: We plan to mix a focused research workshop with a minischool of graph crossing numbers for a broad audience (mostly expecting interested GraDR students).

Furthermore, we plan to organize two social evenings with plenty of good local wine, and there are endless possibilities for walks and cycling in the beautiful surroundings of the Lednice-Valtice UNESCO site (bicycle rental possible).
The WORKSHOP
Flash News
Unfortunately, one of the main speakers, Gelasio Salazar, cannot come. His talks will be replaced, one by Laszlo Szekely, the other one by a video-talk.
The workshop is now over, and I hope you all enjoyed it! See below for the slides of invited talks. And for thos who learned the crossing number for the first time, it would be really nice if you can continue research in it.
Scientific goals and Programme
This workshop follows a relatively short but intensive tradition of small crossing-number workshops (e.g., 2010 workshop associated with MFCS, 2011 miniworkshop at BLED11, and 2011 BIRS workshop). We hope to see you in Valtice!
We plan to mix a focused research workshop with a minischool of graph crossing number for a broad audience (mostly expecting interested GraDR students there).
The confirmed invited plenary speakers are Gelasio Salazar and Sergio Cabello.
A basic tutorial of crossing numbers for students will be given by Petr Hliněný.
A lecture-presentation on practical computing of the crossing number will be given by Markus Chimani.
There will be room for short research and problem presentations, and working groups, too.
Study materials (extended) for the crossing-number minischool.
Computing crossing numbers online (Markus).
Talk schedule
The schedule may change a bit in latter days...
Equipment
We will have a data projector, and a whiteboard for all talks, and free internet (wifi) connection.
Organizers
Petr Hliněný, Reshma Ramadurai (MU Brno), Markus Chimani (Univ. Jena)
Support staff: Ondrej Moriš, Marek Derňár
Contact: @ynenilhfi.muni.cz
Emergency contact during the workshop:
+420 608 478 345 Ondrej Moriš, +420 721 320 618 Petr Hliněný.
Registration of Participants, and the Venue
Even if you have already expressed your interest in the workshop through the preliminary questionnaire on this page, please fill in the following:
Besides, we kindly ask all the
non-student participants to contribute
to the social programme and wine with a workshop fee of 1500CZK (around 60Eur, but more 1750CZK if late!), payable at the following link:
Costs
Regular participation will cost around 40 Eur per day including full board. This is payable upon arrival at the pension (cash or card, Euro accepted).
Generally, there will be no mandatory conference fee, but we are asking the senior participants to pay a special workshop fee around 60Eur to cover the cost of social events. This fee should be paid online in the Masaryk University E-shop, preferably before May 1 (or the fee will be higher).
Location
Valtice, a small town which is the wine capital of Moravia, and also a UNESCO site (for garden architecture).
Valtice lies half-way between Brno and Vienna, and is easily accessible from the Vienna-Prague-Berlin railway, and also from Vienna airport. The exact location will be Pension Siesta which is fully booked for our workshop. We expect around 20-30 participants. (Do not book in this pension by yourself, your booking will be handled through the workshop organizers, by filling registration.)
ARRIVAL
This map shows (A) the train station "Valtice mesto" (do not mistake this with farther "Valtice" which is more to the West), and (B) the "Penzion Siesta" which is just on the edge of Valtice in the direction from Breclav, and you will see it immediately on the main road.
There are no buses on Sunday, only during weekdays (with a bus stop right in front of the pension).
Practically everybody using public transport will come first to the major train station Breclav.
All long distance trains from Vienna to Prague or to Warsaw stop there, plus some local trains from Vienna end there. A list of train options from Vienna airport is here. So, Breclav is easy to find, but then it becomes tricky.
The easiest option to Valtice is to take taxi from the Breclav train station to Penzion Siesta - it is just a few km and should cost around 200-300CZK.
There is no bus service on Sunday, just a few local trains (direction Znojmo or Hrusovany) to the aforementioned station "Valtice mesto" (then walking).
Be careful to take off right at "Valtice mesto", which is for some trains the first stop after Breclav, and for others it is the second one - it is definitely the first stop after about a 10min ride. I do not know whether Austrian railways can sell you a ticket to Valtice, but you can always buy the first ticket to Breclav, and then the second ticket to Valtice mesto in Breclav.
Otherwise, car parking is not a problem right in the backyard of the pension.