Barbora Kozlikova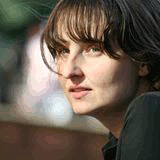 Associate Professor,
Department of Computer Graphics and Design


Address and contact:



Masaryk University           Phone: +420-54949 4398   
Faculty of Informatics       
Botanicka 68a
602 00 BRNO                  WWW: http://www.fi.muni.cz/~kozlik
Czech Republic               E-mail: xkozlik at fi dot muni dot cz


---
Curriculum Vitae
Barbora Kozlikova received her Ph.D. degree in 2011 at the Faculty of Informatics, Masaryk University. From 01/2012 to 06/2012 she worked in commerce as a programmer/analyst. From 07/2012 to 08/2017 she worked as an Assistant Professor at the Department of Computer Graphics and Design, FI MU. Since 09/2017 she works at the same department as an Associate Professor.
Teaching
---
Research Interests
Computer graphics (visualization, computational geometry) and bioinformatics (protein analysis and visualization).
---
Research Projects
---
Publications
Publication list is available here.