Leaflet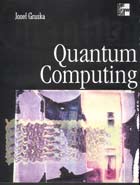 Amazon
(online ordering)
Overview
Contents
Preface
About chapters
Figures
Corrections


About author
Related links

ISBN: 0-07-709503-0
Published: May 1999
Binding: Softcover
Pages: 439 - 246x189
Price: £34.99, DM73

About author
For further informations about author see Jozef Gruska's homepage
Jozef GRUSKA
Affiliation:
Professor of Computer Science, Faculty of Informatics, Masaryk University, Brno, Czech Republik
Recent books:
Research Interests:
Quantum information processing, Foundations of Informatics, Parallel automata, Descriptional complexity
Publication activities:
Over 100 papers, books, lecture notes and proceedings.
Courses taught (currently):
Quantum computing, Randomized algorithms, Cryptography and cryptographic protoocols, Computation complexity, Communication networks, Kolmogorov complexity.
International Science Positions:
Member of program committees over 45 international conferences, EATCS Council member (1985-91), Founding chair of IFIP Specialist Group on Foundations of Computer Science.
Visiting Positions:
3 years --- University of Hamburg; 2 years --- University of Minnessota (Minneapolis); 8 months --- University of Nice (Sophia Antipolis); 6 months --- Fridrich Schiller University (Jena), University of Waterloo; 4 months --- University of Hamburg (2x), University of Salerno, University of Viena, Technical University of Vienna; 3 months --- University of Paris 6, Ecole Normale Superieure Lyon, University of Karlsruhe,....
Science Positions (recent):
Member of the scientific boards of Masaryk University, Faculty of Informatics of Masaryk University, Faculty of Mathematics and Physics of Commenius University (Bratislava); Member of the Commitee for mathematics and informatics of Czech granting agency.
Awards (recent):
1995 --- IFIP Silver Core; 1996 --- IEEE Computer Pioneer Award; 1997 --- Golden Medal of Masaryk University; 1999 --- Award of Rektor of Masaryk University for special achievemnets; 1999 --- Medal of first degree of Czech Ministry of Education.