Welcome to the Screentest Home Page
IMPORTANT: We are currently in the process of moving the development to SourceForge. See the project home page at SF.
What is Screentest?
Screentest is a CRT screen testing utility. Ever wondered how good the quality (sharpness, linearity, convergence, etc.) of your CRT monitor is? Screentest displays the testing patterns which you can use to evaluate the quality of your monitor.
---
How can I get Screentest?
The RPM packages are signed by my PGP key.
---
CVS repository
You can browse the development tree in CVS using our CVSweb interface.
---
Documentation
---
Screenshot
Click on the image for a bigger picture.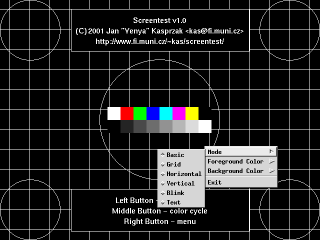 ---
License
Screentest is a postcardware+GPL: if you like it, you can send me a postcard (see the file AUTHORS in the distribution packages for my snail-mail address). The postcard is optional. The package is distributed under the terms of GNU General Public License, version 2.
---
Jan "Yenya" Kasprzak