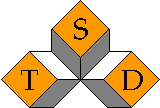 TSD 98 - Registration Form Page
The registrations for TSD 98 are handled electronically via web, preferably, or via e-mail. To use the web, all you have to do is to carefully fill out the following form using Netscape 2.0 / Explorer 3.0 or later (with Java Script enabled).
Please, provide all the relevant information in the specified format: your form will be checked and calculated and your submission considered only in this case.
---
Warning. The present form can be used only with Netscape 2.0 or later. If you cannot use such a browser, click the button below for a text-only form to be returned or send an e-mail with
Subject: send TSD registration form to glum@fi.muni.cz.
Please, use the buttons to fill in the form fields preferably.
---
glum@fi.muni.cz