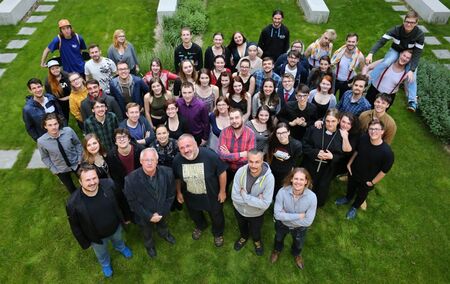 ProFIdivadlo presented the jubilee 25th play
The black comedy Harold and Maude had a successful premiere and finale at the University Cinema Scala.
One of the possibilities for the all-purpose development of MU students is the student theater. It spontaneously arose at the MU Faculty of Informatics as a student recession, as a materialization of the joy and playfulness of computer scientists.
The last theater piece, Harold and Maude, based on Colin Higgins' design, was rehearsed by the ProFIdivadlo ensemble under the direction of Jan Sádovský. As the title suggests, the play describes the relationship between Harold and Maude. Harold is a young man obsessed with death who fakes suicide in front of his rich and cold-hearted mother. Maude is an eighty-year-old lady with a good sense of humor and the ability to enjoy life to the fullest.
"This novel and film classic follows the unusual relationship between two people with a significant age gap. Although this is met with misunderstanding and criticism from those around, it opens up a new perspective of the world for both of them. Maude brings hope to Harold's melancholic world and together they begin to enjoy a life full of freedom, joy and spontaneity," said Alena Greisslerová from the theater's PR team.
Tomáš Zelina as Harold and Martina Körtingová as Maude appeared in the title roles. Fifteen other members appeared in supporting roles. For the first time in the company's history, the performance included a live band located directly on the stage. "We put together a six-member band with trumpet, bassoon, guitar, piano, clarinet and violin. The musicians mainly provide light jazz improvisations during the reconstructions of individual scenes. Sometimes they actively participate in the story," explained Alena Greisslerová.
In the past, the ensemble presented, for example, its own adaptation of Chuck Palahniuk's controversial American novel Fight Club, the dramatization of Ken Kesey's novel One Flew Over the Cuckoo's Nest, or the theatrical version of Quentin Tarantino's cult film Pulp Fiction.
"Currently, our ensemble has about sixty active members from among the students of the Faculty of Informatics, but students from other faculties are also represented, as well as people outside the university. We meet every Wednesday from 6 p.m. for our rehearsals," explained Alena Greisslerová, who is a third-year student at the MU Faculty of Medicine.
Attachments