Admission Information - Doctoral Study
The currently running Doctoral study programme "Informatics" is formally split into two subfields called "Informatics" and "Computer Systems and Technology". The studies can take either a full-time or combined form and can be studied in Czech and also in English language. The topics offered to PhD candidates range over various branches of computer science.
Webinar about study at FI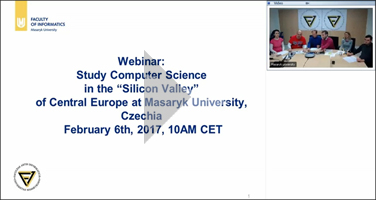 Current stated dates for Spring term 2018
for Autumn term 2018 will be specified in February 2018
| | |
| --- | --- |
| Application dates | 12 September 2017 - 12 January 2018 |
| Admission examination | 29 January 2018 |
| Handling charge | 400 CZK (16 EUR) |
Contacts
-
admission

fi

muni

cz: admission

fi

muni

cz
or
Office for Research & Development & Doctoral Studies
where you can get more information about:
- admission to doctoral study
- doctoral study in general
- days of open doors
Admission process to the Doctoral study programme:
Requirements for admission to a doctoral programmme approved by the Academic Senate of MU FI
Information about Recognition of Foreign Higher Education Qualifications
General information about admission
Selection of study specialization and supervisor
This part is very important and it is necessary to pay attention to it. The main orientation about possibilities of study specializations you can get from following sources:
Detailed view about fields and problems that supervisors pay interest to you can find out in actual thematic areas of doctoral study. These areas are not complete list of topics which you can study at FI. After deal with supervisor it is possible to select also different topic (for your information - List of PhD students with their supervisors, consultants and thesis topics).
Before submission of your application it is necessary to contact chosen supervisor and negotiate with him/her about content of study.
From application to enrolment
Application Submission
Applicants have to apply to the doctoral programme only through the electronic application. After creation and completing of an electronic application it is necessary to submit following documents to the Office for Research & Development & Doctoral Studies:
Office for Research & Development & Doctoral Studies
.
The handling charge is 400 CZK and is paid according to the rules in electronic application.

Applicant has to submit all documents before application deadline to the Office for Research & Development & Doctoral Studies, otherwise FI MU doesn't accept his/her application.
Foreign students are recommended to complete their application from February to May to start their studies from the Autumn semesters.
Admission Exam
Admission examinations are held in stated days. Applicants will be invited to the admission examination by letter sent to an e-mail set in applicant´s application. More information will be also published at the webpage - News for PhD students.
The admission committee assesses skills for creative work in computer science as a scientific discipline and the ability to communicate in English. The chairman and the committee members are proposed by a Doctoral Board of FI MU and appointed by the dean.
On the basis of evaluation of written documents committee decide whether or not it is necessary to invite the applicant to an oral examination. The committee may waive an oral interview especially if the applicant has achieved excellent results during his/her previous master's study (excellent grade point average, outstanding master's thesis, etc.). During an interview, which lasts 15 - 30 minutes, the applicant has to demonstrate general knowledge of computer science and also depth knowledge in areas related to the planned focus of study. They must also demonstrate the good ability to communicate in English. An oral interview consists of questions asked by committee members. The interview can be at the discretion of the admission committee also performs through video conference, especially in the case of foreign applicants.
The admission committee will propose an applicant to be or not to be accepted to a doctoral programme according to a comprehensive assessment of written documents and an oral interview. If an oral interview is pardoned, the admission committee suggests an applicant´s admission.
About the admission procedures and proposal of admission committee is informed the Doctoral Board FI MU, which draw up to the proposal a written opinion. Then the proposal of admission committee and the statement of the Doctoral Board are forwarded to the Dean FI MU, who will decide on the acceptance or rejection of each applicant.
Decision and Enrolment
The Dean of the Faculty of Informatics decides on the recommendation of the admission committee and Doctoral Board of FI MU about applicant´s acceptance/rejection to the study. Applicants receive a written notification of the decision, including the date of enrollment in the case of admission. The acceptance to the doctoral study is conditioned on a successful completion of Master studies, according to the Higher Education Act No. 111/1998.
The applicant who at the time of admission procedures does not yet meet this requirement may be admitted under conditions which are stated by the Dean in his decision about admission. For enrollment to PhD studies is necessary to have properly completed Master studies. The graduates from the universities outside the Czech Republic must ask for a recognition of their previous education. Admitted students must submit the recognition certificate no later than for enrolment to the studies.
A basic idea about the success of applicants in the admission procedures you can create according to the Reports on the admission procedures from previous years.
---
Other information
Detail information about an admission procedure and also about doctoral studies you can ask at the Office for Research & Development & Doctoral Studies , or at the doctoral study website .
Tuition Fees
Tuition fee for the doctoral programme in English language is 2000,- EUR per year.
Students pay also for their individual living expenses (e.g. accommodation, food, travel costs, insurance, etc.).
Scholarship
The Faculty of Informatics does not offer any scholarships to cover all expenses, incl. tuition fee of doctoral study. Students have the chance to get some scholarships or salary during their studies, when they take part in teaching or research activities at the faculty (help with tuition, work on research projects,…).
For more information about possibilities you can ask your supervisor or have a look here
Call for PhD Students
,
JCMM
.